Event information
The EUCCO conference series aims to bring scientists from computational optimization, algorithms for large-scale optimization problems and related applications together. This 2023 edition will especially emphasize optimization with partial differential equations, large-scale optimization as well as numerical optimization algorithms and software. Previous editions of the EUCCO conference were held in Dresden (2004), Montpellier (2007), Chemnitz (2013), Leuven (2016) and Trier (2018).
Times and dates
The conference will begin Monday, September 25, 2023 around noon and run until Wednesday, September 27, 2023 late afternoon.
On-site check-in will open on Monday morning and close at the end of the conference opening.
Important dates:
2023-01-31: Submission of abstracts opens
2023-05-31: Submission of abstracts closes, and travel support requests are due
2023-06-16: Decision on accepted talks and travel support
2023-06-30: Online registration opens
2023-09-15: Online registration closes
Venue
The conference will take place at the campus "Im Neuenheimer Feld" (INF), Heidelberg, Germany (google maps link) of Heidelberg University.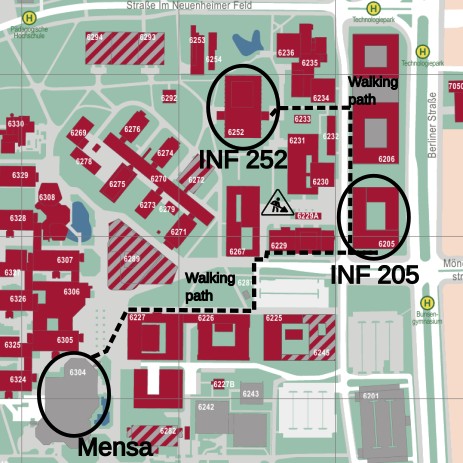 Scientific program
Aside from plenary talks by the invited speakers, there will be focus sessions for regular contributions to the conference. We expect 45 minutes per plenary talk and 30 minutes per presentation in a focus session, including questions and discussions. This is subject to change depending on the final number of contributions. The full scientific program will be made available as soon as possible.
Plenary lectures
There will be three plenary lectures by lecturer that will be announced as soon as possible.
Focus sessions
The topics and organizers of the focus sessions are:
Social program
We expect to offer a guided walking city tour on Tuesday, 2023-09-26 in the afternoon. The conference dinner is scheduled for the evening of the same day, at the Art Hotel, Heidelberg. The conference dinner is included in the conference fee. There will be a buffet with vegetarian options.
Conference administration
Abstract submission
If you would like to contribute a presentation to a focus session, please submit your abstract here ("Submit a paper, limited to 1000 characters").
Registration and fees
Due to the generous support of various sponsors, the conference fee will be 50 € and it includes the conference dinner. The registration will be handled in the conference management software converia and opens end of June, see times and dates.
Travel support
Due to the generous contributions of various sponsors, we are able to financially support young researchers in covering their travel and housing costs at this conference.
In order to apply for financial support, please send us an e-mail until 2023-05-31. Your e-mail should contain the following information:
Name, Institution and Career level,
short explanation why you need travel support,
planned talk at EUCCO2023, and
expected travel costs.
Please note that the allocation of our travel support funds is dependent on the overall demand. We will communicate the decision on support allocation by 2023-06-16.
Travel information
Getting to Heidelberg
By Train or Bus
You can reach Heidelberg main station by train or bus.
By Plane
The two most reasonable airports are Frankfurt Airport (FRA) and Stuttgart Airport (STR). You can continue your trip to Heidelberg from either of these airports by train or bus.
By Car
Parking in the city and on campus is typically very limited. Please inquire about the conditions at your hotel or check the university's overview on parking around the Neuenheimer Feld. Note that all parking options at the campus are subject to fees.
Traveling within Heidelberg
Heidelberg's public transport (map) is part of the Rhein-Neckar region's public transport system. The best way to go from the main station to the conference venue by public transport is by taking either of the tram lines 21 or 24 from main station to the Bunsengymnasium stop (~10 min travel time). Other options are a straight-forward 1.6km walk (google maps link) or renting an e-scooter from Bird, Bolt, Lime or Zeus.
Accommodation
We have reserved rooms (with breakfast) in several local hotels from Sunday, September 24 until Thursday, September 28, 2023. You can book your room from this quota here. Adjust your arrival/departure dates as necessary. You may of course also contact the hotels directly and inquire with your parameters.
Apart from the room quota above, other options in Heidelberg include:
Program committee
The program committee consists of
Covid-19
Current information on Covid-19 regulations in Germany can be found on the websites of the federal foreign office and the Robert Koch Institute. See also the Heidelberg University's website on Covid-19. If required, additional Covid-19 specific considerations on site will be announced here as soon as possible.
Sponsors